Zinitz penetrates with major brands on Zambian market
---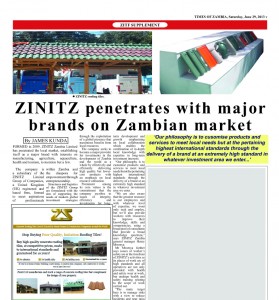 James Kunda of the Times of Zambia wrote this piece on the lead up to the 49th Zambia International Trade Fair (ZITF), 2013 and it was featured in the ZITF Supplement.
The theme of the trade fair was "Value Addition Through Global Partnership" which is a fitting theme as this is exactly how Zinitz Limited functions.
He wrote "FORMED in 2009, ZINITZ Zambia Limited has penetrated the local market, establishing itself as a major brand with interests on manufacturing, agriculture, aquaculture, health and tourism, to mention but a few."
More and more people are becoming aware of Zinitz Limited which is absolutely fantastic as we aspire to become a household name and synonymous with high standards as pledged in our philosophy:
"customise products and services to meet local needs but at the pertaining highest international standards through the delivery of a brand at an extremely high standard in whatever investment area we enter."
Customer enquiries for our concrete roofing tiles has increased exponentially as people within Zambia have become more aware of the benefits of using our concrete roofing tiles instead of lower quality imitation iron sheets and the seriously dangerous asbestos roofing tiles.
Conversations with trade fair goers lead to the realisation that the leading top 3 misconceptions about our concrete roofing tiles were as follows:
they cost more?
the tiles contain asbestos?
they are too heavy to put on the roof?
All of the above are completely wrong!
(1) Zinitz tiles are competitively priced
Being even better products than iron sheets and imitation roofing tiles.
(2) Our roofing tiles do not contain any trace of the dangerous asbestos.
Asbestos is a very dangerous substance causing serious respiratory illness such as mesothelioma and is why it has been outlawed in many Countries. In the UK asbestos prohibition laws were first introduced in the mid-1980s and banned without exception in 1999 by the government.
(3) Our tiles are definitely not too heavy!
Although concrete roofing tiles are heavier than iron sheets, the majority of roofs can take the weight of the tiles. This additional weight benefits your roof and actually means that your roof is more stable in high winds and does not blow away like iron sheets.
There are a number of other additional benefits to using our concrete roofing tiles and if you would like to find out more feel free to go to our roofing tiles page.